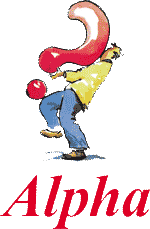 Alpha Ottawa News
More than 20 participants attended this excellent training by Elaine Young. We hope for a bunch of parenting courses to be launched in the region. For local support contact your Alpha coach (see Resources page).
As of Sunday Nov 13, 2011, we have a testing website up for a redesigned Ottawa and Area Alpha Website. Please check it out and let us know by commenting on the various pages. All current courses are posted on the new website. Some material has been transferred over, but the links may be broken. Please note that this is a testing site and may have problems. We need comments.
Problems have been noted with the testing site and we are working with WordPress.com to attempt to resolve the problem. This site is a reference site for Alpha Course Coaches, Leaders and Participants and, as such, has a significant number of reference links to resources. Unfortunately, putting this reference material on WordPress.com makes the site look like a spammer's website.
Listen to CHRI 99.1 FM Canada's first 24 hour Christian contemporary music station, also available on the Net. A calendar of Ottawa Christian events is also provided on the site.
UCB Canada: Christian radio 102.3 FM in the Quinte/Kingston area, and source of the wonderful daily devotional booklet the Word for You Today. Tony Copple has bulk copies of this available free: Call 591-3903. Ideal to give to course members.
Both Laurie-Ann and Tony Copple, Alpha Coaches, are regular hosts, about once a month, on Over my Head on CKCU 93.1 FM, Sundays 8:00 am - 9:00, playing music from a Christian world-view.
Rev. Dr. Allen Churchill or Rev. Don Crisp may be heard on the program Good News in the Morning on CFRA 580 AM every Sunday morning 6:30 am - 7. This is the best Christian talk you'll hear anywhere on the airwaves. Listen live. Listen to a recent broadcast (updated most Sundays). See also: Good News Christian Ministries
CFRA 580 AM: 10pm – 12, Mon Thurs., 9 – 12, Fri., Late Night Counsell, including, on Wednesdays: Ask the Pastor John Counsell is a pastor at Bethel Pentecostal church, and this program is first class, particularly on Wednesdays.
Kathy Grant hosts Gospel Groove, 7 - 11 pm every Sunday on CHRI 99.1 FM, in Ottawa
Please update your new course info so we can reflect your courses on this site. We prefer to have approximate dates for the future than dates in the past!
We maintain a page of archived news items.