31 August 2006

Here's the latest progress bulletin for the Ottawa Alpha Conference, 8,9 September, at St. George's in the City.

Cannine contribution (- fun for those on high speed)

Preparations for the Alpha Equip & Refresh Conference 8,9 September continue apace. Many have registered, but we expect still more in this the last week. The conference takes place in the beautiful environment of St. George's; an event that has the potential to have a lifechanging effect on the lives of thousands in this region.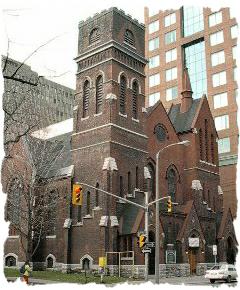 Alpha conferences aim to teach participants all they need to know to start and run an Alpha course. This is a 2-track "Equip and Refresh" conference, providing a great opportunity to learn, both for members of those churches who know little about Alpha - Track 1: Basic, as well as for those who have been running Alpha for a while who would like to maximize the potentail of their course - Track 2: Advanced.
The last day for registering to be sure of a delegate pack and food will be Sat 2nd Sept. - but please don't wait till then! After 2nd Sept you may continue to register; just pray for food. All participants including volunteers need to register individually - except spouses.
The names of our three very special visiting speakers are Father James Mallon, Rev Chris McLean and Rev Todd Pratt. Check out Father James' web site.
When you register at Alpha Canada you will find a choice of 13 seminars, and you can choose any two. They take place back to back on the Saturday afternoon.
In this conference, people will be allocated at reception to small groups, to model the Alpha course approach. The timing of this conference should allow churches to plan for new fall courses and have their teams trained at this event. There will be multi-church pre-course leader training at Bethel Pentecostal church on Sat 23 Sept from 9 - 12, to save you running your own training.
A poster can be downloaded from here. Another poster is here. We encourage you - actually we twist your arm - to print and post one of these in your church or community.
On-line Registration - (preferred). If you have no way or registering on line, leave a message (including your name and number) at the Ottawa Alpha hot line: 613-592-5310
Pastors! There is a pastors' lunch an noon on day 1 of the conference. This is an independent event, though we would love to see you at the conference also. It is primarily intended for pastors whose churches have not previously run Alpha, so that they may benefit from the experience of pastors who have run it many times and found it a powerful tool for evangelism. To register for the pastors' (free) lunch, please contact Karen Bergenstein asap at 613-730-4625 or k_bergenstein@hotmail.com.
Here is the conference program:
2-track conference timetable:

Friday
12:00        Pastors' lunch

Friday Evening
5:00    Volunteers arrive
6:15 	Registration.    All attenders slotted into Groups.  Meet your group.  
7:00    Worship  (leader: Dan Thiessen) 
7:15    Welcome - by Conference Co-Chair, Msgr. Len Lunney, Episcopal Vicar, Ottawa Archdiocese.
7:20 	Testimony by Rev. Dave Crawley, as a local church leader. (and our host)
7:30	Track 1  - Principles of Alpha   - Guest speaker    -  Father James Mallon
	Track 2  - Developing an existing Alpha course   -  Rev. Chris Mclean
8:30    Coffee and Small Group Discussion #1  (8:30-9:30)
~9:30 	Close. Please go home! 

Saturday
8:30	Volunteers meet for prayer in the lounge
9:00	Worship
9:20 	Practicalities of Alpha (part 1)	           -   	Rev Todd Pratt
10:30	Refreshment Break  	
11:00 	Track 1	- Practicalities of Alpha (part 2)   -   	Rev Todd Pratt 
	Track 2 - What happens after Alpha	           -   	Rev Chris Mclean
12:00 	Small Group Discussion #2
1:00	Lunch.   
1:45    What Next? Alpha Invitation Presentation
2:00	Seminars 1  Till 2:45
2:50    Seminars 2   
3:35 	Refreshment Break 
4:00	Testimonies  
4:15	Model Alpha Talk  (Father James Mallon)  followed by Ministry time (5:00 – 5:45)
5:45    Worship
6:00    Close  

Subsequent Event:

Saturday 23 September  
9:00 am – noon:   Multi Church pre-course standard leader training
Location Bethel Pentecostal church

Volunteers:
M/Cs:
Monique Stone, Renate Lapenat
Registration:
Lynn Williams, Karen Bergenstein, Flo Alexander, John Milburn
Treasurer, expenses:
John Milburn
Greeters, ushers.
Volunteer Co-ordinator: Mark Poulin
Friday evening only: Julie Torrance, Regina Behnk, Iris Taylor
Friday and Saturday: Bob Douglas, Susan Harris, Sonya Baird, Ginger Cochran
Small Group Leaders:
Gp #	Leader
1	Jennifer Bulman 838-5074
4	Tony Copple	591-3903
6	Bonnie McNally  705-524-1175
8	Les Johnson	839-0107
13	Marc Poulin	599-6816
15	Norm Henderson  523-2322x310 
16	Bob Horsey      592-5419  
17	Henry Troup	838-5095
19	Renate Lapenat  596-3927
20	Bob Carson	599-4408
21	Dave Peer	729-8136
22	Bill Ranger	592-8054

Nurse:
Audrey Henderson
Catering help:
Hope Suggett, Judie Murchison
Audio / visual / photography:
Dave Leibold, Bob Carson, Laurie-Ann Copple (OHP Fri), Sally Stinson (OHP Sat), Chas James

Seminars leaders and hosts:

      Seminars				   Speakers		Seminar room
      Prison Alpha                         Dave & Carol Atkins          8        
     		Host:   Jill Wilson
      Caring for ex-offenders		   Dave & Carol Atkins	   	8        
     		Host:   Chas James
      Workplace / Alpha Express            Michel Savard 		12              	   
     		Hosts:  Jenifer Bulman,  Donna Martin
      Alpha Weekends & how to lead them    Dorothy Janes		1        
                Hosts: Ginger Cochran,  Les Johnson
      The little touches that make a big   Tony Copple			3        
           difference to your Alpha Course 	  		
     		Hosts:  Donna Martin,  Rev. Pete Molloy
      Alpha for Catholics                  Ethel Mahoney                11       
     		Hosts:  Chas James,  A.N Other
      Alpha around the globe               Monique Stone   		4        
     		Hosts:  Lois Elliott,  Jenni Troup
      The Pastor's role in Alpha	   Rev Jennifer Wickham         6        
     		Hosts:  Rev. Pete Molloy,  Fthr Don Tudin 
      Marriage course and Marriage Prep	   Ray & Lorna Brule            7         
	   course	
      		Hosts:  Bob Horsey, Jennifer Bulman
      Youth Alpha			   Rita Rittenhouse	     	2        
     		Hosts:  Jenni Troup, Jill Wilson
      Prayer on Alpha                      Laurie-Ann Copple	        9       
                Hosts:  Audrey Henderson,   Ginger Cochran
      Avoiding leader burnout		   Barrie Davies		10      
                Hosts:  Henry Troup, Bob Horsey 
      Leading Worship			   Dan Thiessen  		5
                Hosts: Mark Poulin, Heather Maxwell





Blessings



- Tony Copple, Conference Organizer







---


Alpha Ottawa