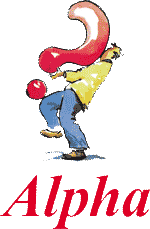 Ottawa Alpha Conference in Ottawa, 26, 27 October, 2001
Another event pointing towards Revival in Ottawa


Praise Our Lord!
Conference Chairperson: Eric Angel
Conference Co-Chairs: Rt. Rev. Peter Coffin, Bishop of Ottawa and Rev. Dr. Allen Churchill
Pastor Lawrence Rae
Lawrence has a unique appreciation for how Alpha is working across the denominational spectrum as he has pastored Brethren, Pentecostal, Vineyard and Community churches both in Canada and the US. He is now the Senior Pastor of Point Grey Community Church in Vancouver, a thriving young church with many new believers, and is also very active in the Greater Vancouver prayer and renewal movement. Lawrence has preached his way through the Alpha Course on Sundays, believing the material was too good for any of his congregation to miss. He and his wife Roseanne also run the Alpha Course in their home.
Rev. Brian McVitty
Brian and Diane pastor at St. Paul's on-the-Hill, Pickering Ontario - they were one of the first congregations in Canada to launch the Alpha course and imported the required materials directly from London. Since that beginning in 1995 they have been delighted to see hundreds blessed by the course and many come to faith. Their congregation has grown spiritually and numerically. Brian has been able to help many congregations successfully launch Alpha.
Brian is also a Regional Advisor for Alpha in Ontario and a regular speaker at Alpha Conferences in Canada.
Worship Leader
Don Krull, with Firefall.

Order audiotapes of the conference Tel: 613-824-2583; Fax 613-824-2584 contape@cyberus.ca
Review CONFERENCE BROCHURE
Running Alpha without going to an Alpha Conference is like driving a car without taking driving lessons
— Nicky Gumbel
Conference venue:
Dominion-Chalmers United Church
355 Cooper Street, at O'Connor
OTTAWA, ONTARIO
Listen to Dr. Allen Churchill on CHRI-FM Sep 19, discussing Alpha and the importance of this conference.
Rt. Rev. Peter Coffin, on CHRI-FM Oct 17.
[Requires Microsoft Explorer — Windows Media Player]
In addition to the plenary sessions listed on the cconference schedule (see link above), the Ottawa Alpha Conference presented the following seminars which reflect our local needs and interests.
Youth Alpha - Very Rev. George Bruce
Administration on Alpha - Elaine Young, Alpha Canada
RC Alpha - slotting Alpha into the Catholic curriculum - Vernon Robertson, Alpha Canada
Inter-Church Alpha - several churches from differenent denominations banding together to hold Alpha - Hardy Philippi and Vinita Baker
Office / government Alpha - in French - will interest both those seeking to introduce Alpha in business and government, and those setting up French Alpha courses - Michel Savard
Prison Alpha, including caring for ex-offenders. Ideal for prison chaplains and Alpha leaders interested in this growing ministry - Ray Scanlan
Pastoring Alpha in the local congregation; & after Alpha. - Rev. David Crawley
Pastors and Lay Leaders Luncheon Tues May 29 2001, Dominion-Chalmers United Church
Rev. David Crawley, of St. George's Anglican, spoke to us movingly of the 1995 Alpha Conference in Toronto which launched Alpha in Canada, and the harvest at St. George's from their 14 Alpha courses since. Guests will carry the message back to their congregations that leaders coming to an Alpha Conference can greatly enhance the Alpha experience for course members.
Church Bulletin insert, front, back
An open letter to local pastors and lay leaders
Letter to supporting pastors - Sept 20, 2001
An open letter to all Alpha helpers
An open letter to - everyone!
Enthusiam for Alpha conferences
Oct 16, 2001 Planning Meeting
Oct 2, 2001 Planning Meeting
Sept 17, 2001 Planning Meeting
June 19, 2001 Planning Meeting
May 15, 2001 Planning Meeting
April 17, 2001 Planning Meeting
March 30, 2001 Planning Meeting
Conference organization chart
Conference Poster
Hanging the sign
Rev Brian Wilkie hangs a 12 ft conference banner on the North wall of Dominion-Chalmers, Sept 6, easily visible by 10,000 motorists a day driving down O'Connor.
240 people attended this conference. All were mightily blessed. Our speakers and worship team were awesome. The Holy Spirit came in force. We thank Him for initiating a new generation of Alpha leaders, and we say to them: "Welcome to this powerful worldwide evangelistic mission!"
We thank our speakers and seminar leaders for guiding us in discovery and thought so well. We thank all the members of Dominion Chalmers United Church for opening your church home to us so generously and supporting us in so many ways. Most of all we thank the hundreds of intercessors who prayed for months that this conference would bring a rich harvest for the Lord.
Listen to "Good news in the morning" with our co-chair Dr. Allen Churchill on CFRA 580(AM) in Ottawa every Sunday morning at 6:30 am (also broadcast on the Internet).
For 16 years, Dr. Churchill was the Senior Minister at Dominion Chalmers United Church, and in 1998 was the chair of the Billy Graham Mission to Ottawa. We thank him, and his close associate on the Billy Graham organizing team, Bishop Peter Coffin, for graciously co-chairing this conference and assisting with its promotion and production in very tangible ways.
---
— Photos by Tony Copple